The Plumbers Connect Provides Fast & Reliable Plumbing Services Throughout The Pomona Valley Area.
The Plumber's Connection is a veteran owned, insured, and bonded plumbing company in the Greater Pomona Valley and Inland Empire area that was founded by Gary Garcia Jr.
With more than 18 years experience in residential plumbing and commercial plumbing, our team can handle any commercial or residential plumbing services including; plumbing repairs, hot water tank replacements, tankless water heater installations,  new plumbing and heating system installations, drain cleaning, water line repairs, hydro jetting, sewer line repairs, new natural gas lines, gas leak detection, backflow prevention device installation and testing, and more.
It doesn't matter what kind of plumbing problem you're having.  Whether you've experienced a sudden plumbing emergency and need immediate help or you'd like to schedule an estimate for a new plumbing installation or other non-emergency plumbing service our team will be able to help.
Our plumbers will arrive to your home or business with one of our fully stocked plumbing service trucks and in most cases we'll have everything we need to make a plumbing repair on-site without any delays.  If you want to schedule an estimate for a new plumbing installation such as a new hot water system, gas piping, new plumbing fixtures, or fixture relocations we're happy to provide you with a free estimate to complete the work.
As a veteran owned and operated business you can count on our integrity and our ability to provide the highest level of service to our valued customers. If you'd like to receive an immediate response to your plumbing issue please give us a call 909-260-4376 or fill out our online contact form and someone will get right back to you.
The Plumbers Connection Commercial Plumbing Division
We are able to take on complex commercial plumbing projects including complete system design and installation, waste water handling systems, sewage handling systems, water filtration, natural gas piping for boilers and more. 
The video below shows the construction of one of the facilites we've installed the plumbing systems for.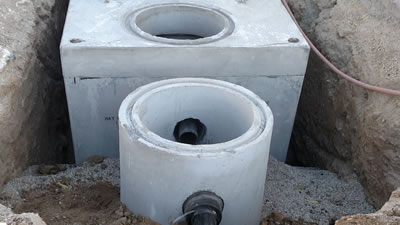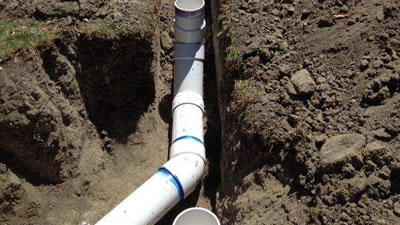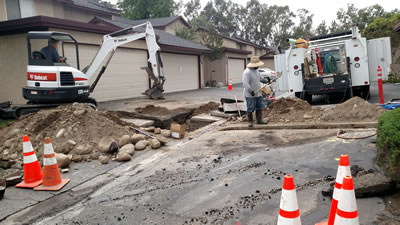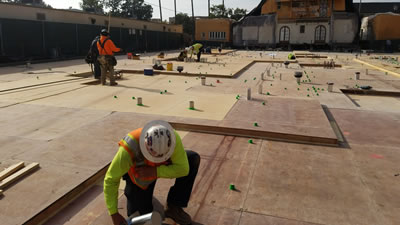 Commercial Construction Plumbing
"GARY WAS EXCELLENT FROM START TO FINISH - I can't say enough good things about him.   A+++++++!  Gary, from The Plumbers Connection repaired and replaced parts on our water heater that had suddenly stopped producing hot water. Even though we lived outside of their service area, Gary was at our house within 24 hours of my first phone call with him at no extra charge. He fixed the problem with the water heater and had a very friendly, yet professional manner about him. He stuck with the original price that he quoted and was happy to do it. From the beginning, I felt I could trust him!"
Marisa T.
Canyon Lake
"After having been quoted $1300 from another company to hydro jet my drain line I called The Plumbers Connection and they quoted me a drastically reduced price. They were not able to come out that day to do the hydro jetting, but they sent Joe over to clear the stoppage so that my family could use the shower, sinks, and toilets. Next day they came out, on time, and cleaned out my drain line. Being that I'm a former carpenter, Joe gave me some tips on some DIY tasks that I could perform. They are courteous, professional, very competent people!"
Jose M.
Claremont
"I received a call back within the hour and they sent me a repairman within the next hour. Very courteous and friendly as well as professional.  I already had an idea of the problem with my water heater. The repairman checked it and had it done within the hour.  Highly recommended and the cost do the repair was in-line with other repair shops quotes, but they were able to work me in their schedule fast."
Gene A.
San Dimas
"Plumbers Connection is great!  They have done work at our house twice, and we will continue to use them in the future.  They are prompt, honest and charge a fair price.  In the past, Michael has done work for us.  This morning we called in at 9:30 because our toilet wasn't flushing.  They called back right away, sent out Joe, and he had our toilet fixed, all before 11:30. Both Michael and Joe were very knowledgeable and courteous.  Do not hesitate to use them."
Kim K.
Claremont
"These guys are awesome! We always call them for all our plumbing needs at our restaurant.  Very friendly and timely.  Today I had an issue that we tried to fix all morning.  Finally called them and they came right out.  Upon arrival, the problem had miraculously "fixed itself." I apologized for having them come out and they wouldn't even charge me a trip charge.  SO NICE!!! I would definitely recommend them to anyone and I will always call them for all our needs here."
Randi W.
Los Angeles
"Just had a blocked kitchen sink and garbage disposal drain cleared by Mike, who was very professional and quick. Another placed I called quoted me way more to do the job new year's eve and these guys showed up when they said, called me back and honored the deal I found on yelp. Definitely recommended!! Great service and reasonable rates, I would call these guys again."
Greg L.
Claremont
Experience The Plumbers Connection Difference

We're Not Like Every Other Plumber In The Inland Empire Area