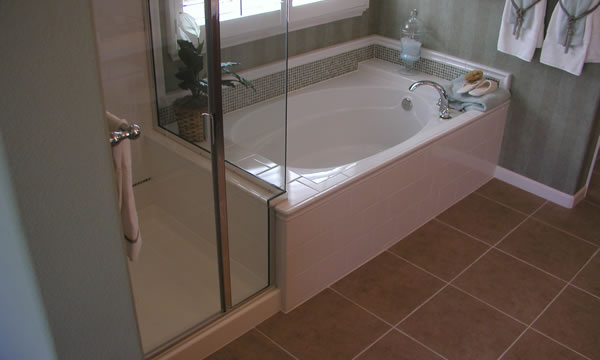 The Bathroom is generally the first room in any building that comes to ones mind when anybody thinks about a plumber…. And Yes… We can definitely fix all of your bathroom plumbing problems, but that's not all we do!
The Plumbers Connection is a full service plumbing repair contractor and we can take care of most bathroom plumbing issues on the same day (providing you don't have some exceptionally rare plumbing fixtures!)
From complete bathroom plumbing overhauls to upgrading your existing plumbing system, to the installation of a new soaker tub or maybe it's an energy efficient tankless hot water heating system.  We can take care of your bathroom plumbing needs.
If you are looking for a bathroom plumbing repair contractor then we can help you with your serious plumbing problems quickly and efficiently.  In the case of an emergency it's always best to call us.  This way we can quickly attend to you and your plumbing problem without delay.
In the case of a new installation project, or a remodeling project where we have the luxury of planning a little, it's always best to give us a call and schedule a time for us to view your project and give you an accurate estimate and realistic scope of the work involved.
Bathroom Plumbing Services We Offer:
Plumbing Repair
Jacuzzi Tub Installations
Bidets
Accessible Tubs and Showers
Walk in Tubs
The Plumbers Connection are your local Greater Pomona Valley, CA bathroom plumbing experts.  It doesn't matter if you want something as simple as a new water saving toilet installed, a new showerhead, or a new tankless hot water heater.  We can complete any type of plumbing project you may require in your bathroom.
[box color="navy-mute" type="round" icon="star"]We understand you have many choices when it comes to choosing a bathroom plumber in the Greater Pomona Valley, CA area.  We just want you to know that when you choose The Plumbers Connection you are supporting a small, family-owned local plumbing services business.  We're big enough to solve your bathroom plumbing problems quickly and for a very fair price and we're still small enough to care about every individual customer so you are completely satisfied with our services.[/box]