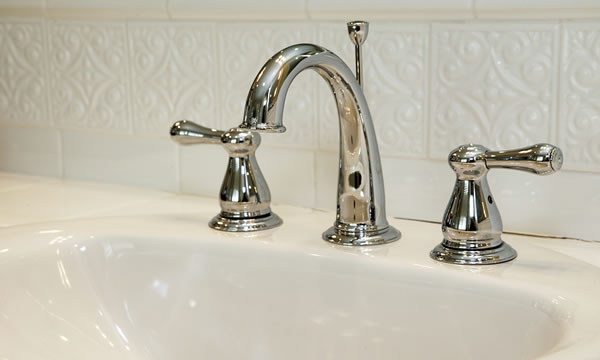 Faucets and Sinks are both common items that plumbers are called out to service.  Sometimes it's too repair a broken faucet, or to upgrade a faucet to something better and more water efficient or maybe it's to unclog the drain in the kitchen sink.  The Plumbers Connection specializes in all aspects of faucet and sink replacement and repair.
Our services aren't just limited to the faucets you have within your home, we can also service your outdoor faucets and taps as well.  From winterizing your water lines to plumbing in an outdoor faucet for your garden we can complete all of your outdoor water faucet installations and repairs too.
[box color="navy-mute" type="square" icon="exclamation"]If Your Faucet Is Broken and Leaking:  You need to turn the water off immediately.  The shut-off valve is usually located beneath the sink.  You'll see two handles.  One is for hot water, the other for cold water.  They are usually clearly marked.  Turn both knobs clockwise to turn them off.[/box]
Faucet and Sink Services We Provide:
Faucet Installation

Faucet Repair
Leaky Faucet Repair
Outdoor Taps and Faucets
New Sink Installation
New Shower Head Installations
Bathroom Taps and Faucets
Laundry Room Sinks and Faucets
The Plumbers Connection are your local Greater Pomona Valley, CA faucet and sink plumbing experts.  It doesn't matter if you want something as simple as a new water saving kitchen faucet installed, a new shower head, or a new outdoor tap installed on your home or building.  We can complete any type of faucet or sink project you need done.
[box color="navy-mute" type="round" icon="star"]We understand you have many choices when it comes to choosing a faucet and sink plumber in the Greater Pomona Valley, CA area.  We just want you to know that when you choose The Plumbers Connection you are supporting a small, family-owned local plumbing services business.  We're big enough to solve your plumbing problems quickly and for a very fair price and we're still small enough to care about every individual customer so you are completely satisfied with our services.[/box]