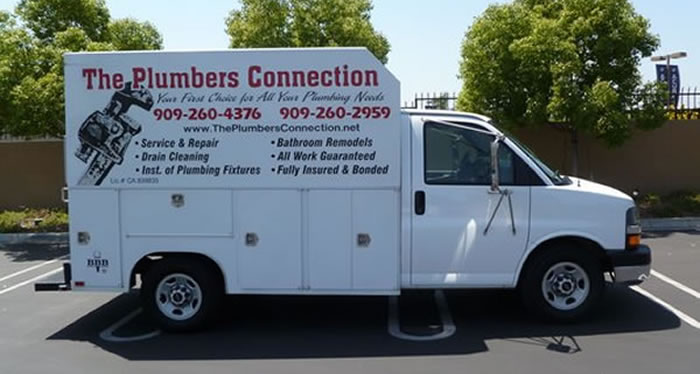 Commercial Plumbing Services Pomona Valley & Inland Empire
We specialize in all aspects of plumbing for commercial or industrial buildings.
Plumbing problems can grind any business or commercial operation to a halt! Sewage backups, clogged drains, leaks, low pressure and more are all issues that can cause your business to stop or slow your production down. If you've got a problem with your commercial plumbing or drain system then give The Plumbers Connection a call right now 909-260-4376 and we can come and solve your plumbing issues promptly.
The Plumbers Connection is a full service plumbing company based out of Corona, California. We are a veteran owned, insured and bonded plumbing company in the Greater Pomona Valley and Inland Empire area. With more than 17 years experience, we handle any commercial plumbing service including plumbing repairs, plumbing installations, drain cleaning, hydro jetting and gas leak detection. As a veteran owned and operated business you can count on our integrity and our ability to provide the highest level of service to our valued customers.
We specialize in all aspects of repairing, servicing and installing commercial plumbing and drain systems. From hydro jetting out a main drain to installing new plumbing systems and upgrades our licensed, insured and certified plumbers will be able to help.
Commercial Plumbing Services Corona CA
Hydro Jetting Sewer or Drain Lines
Natural Gas Leak Detection
Sewer or Drain Repairs
Plumbing Upgrades
Commercial Water Heaters
Commercial Kitchen Plumbing
Commercial Bathroom Plumbing
Public Restroom Plumbing
Commercial Water Quality Solutions
Drinking Fountain Installations
Annual Backflow Testing
Regular Maintenance Programs
Fast, Reliable Plumbing Services
When you have a problem with the plumbing in your commercial building there is usually an urgent need to have the matter solved quickly. When you call The Plumbers Connection you'll be connected to a live person who will be able to immediately address your problem and dispatch one of our fully equipped plumbing trucks and technicians to your site immediately.
Hydro-Jetting Commercial Drain and Sewer Lines
Do your plumbing and drain lines in your commercial building need to be cleaned out regularly? We offer hydro-jetting services for cleaning out and scouring sewer pipes and drain lines that are clogged or are getting built up grease and sediment that needs to be flushed out.
Commercial Plumbing Construction and Installations
Are you building or renovating your commercial facility? Do you need to plumbing systems installed or existing systems upgraded? We specialize in new construction plumbing for commercial and industrial projects. From the design and construction of your sewer and drain system to commercial hot water systems, boiler systems, gas piping and more our team of certified plumbing technicians will be able to help.
Why Choose The Plumbers Connection For Your Commercial Plumbing Needs?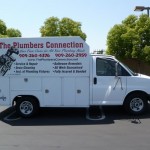 The Plumbers Connection is a full service plumber based out of Corona, California and serving the surrounding area. We specialize in all aspects of commercial plumbing and drain systems for commercial and industrial customers.
If you need plumbing services then give The Plumbers Connection a call today 909-260-4376 or fill out our online form and someone will get right back to you.