Backflow Prevention For Commercial Plumbing Applications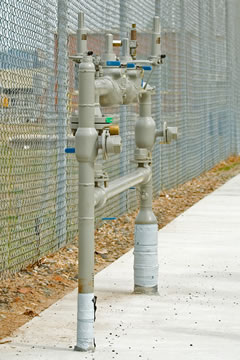 Do You Have Working Backflow Protection On Your Commercial Property?
Water "backflow" is a problem that occurs when wastewater goes backwards through a plumbing system in the wrong direction, instead of going in it's intended direction, the water can backflow into other pipes or cross connections. This can result in wastewater flowing into a freshwater system or vice-versa. Backflow protection is necessary to protect your plumbing system from contamination and contaminating the public drinking water system.
How Does Backflow Usually Occur?
Water moves along your pipes and drains via both gravity and pressure, however it's pressure that can cause your backflow problems. Either an increase in pressure on the wastewater side, such as a full holding tank or grease trap or it can also be caused by a drop in pressure on the freshwater side. The resulting pressure changes, move water one-way or another.
Backsiphonage: Backsiphonage can occur when there is a sudden reduction in the water pressure of the distribution system, such as during firefighting or when a water main breaks. At these occurrences, water flow can be reversed. This reversal can create a suction effect and draw potential contaminants into the potable (drinking) water system.
Backpressure Backpressure is created when pressure in the customer's water system exceeds the pressure in the potable (drinking) water system. This can force the potable water to reverse its direction of flow through a cross-connection between the two systems. Potential contaminants can then enter the potable water system.
Do You Need Backflow Protection?
Backflow protection isn't a very common problem with residential plumbing systems as the fresh water and waster systems are often separated without any cross-connections. Backflow prevention is very common in commercial buildings, especially restuarants and other food service businesses where large amounts of wastewater are handled.
As a commercial operation, your backflow prevention device requires testing and re-certification on an annual basis.
The Plumbers Connection can inspect your plumbing system, evaluate your backflow situation and come up with a solution to safeguard your water supply.
Backflow Prevention Services Can Include:
Commercial plumbing backflow evaluations
Backflow prevention device installation
Backflow device testing & maintenance
The Plumbers Connection can inspect your plumbing system, evaluate your backflow situation and come up with a solution to safeguard your water supply. All of our skilled technicians are professionally trained and background checked. Our technicians also drive fully stocked trucks to ensure they are able to get the job done right the first time.
The Plumbers Connection Installs Backflow Prevention Systems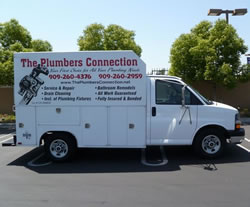 The Plumbers Connection specializes in all aspects of commercial plumbing systems including the installation and maintenance of backflow prevention devices in commercial applications.
If you need help with your backflow prevention or protection then give us a call (909) 260-4376 or fill out our contact form or initiate an online chat and we'll get right back to you.