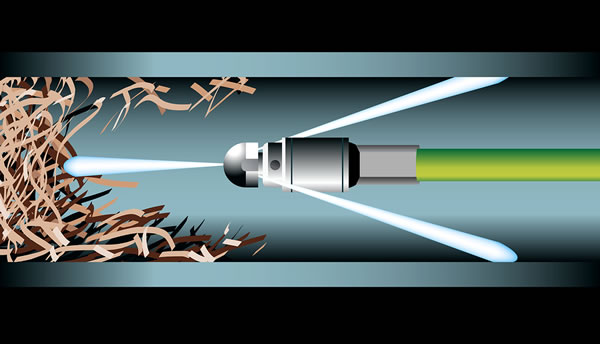 If you're plumbing system is clogged deep, down inside somewhere then you're going to need a hydro-jetting service to clean out the line for you.  The hydro jet is one of the most efficient tools in our plumbing arsenal.
Water Jetting or Hydro Jetting as it's also called is simply shooting a high velocity stream of water under great pressure into your sewer drain.  There is a spinning head, sometimes several different heads we can use depending on the clog and type of drain we're cleaning.  This mechanical process blasts away years of accumulated grease, oils, scale and other buildup that might be inside your sewer and drain lines.
The regular practice of jetting out your lines can keep you from having costly repairs later on due to broken pipes or clogs that require ground disturbance.
The Plumbers Connection is a full service plumbing contractor using state-of-the-art hydro jetting equipment.  We specialize in jetting drains for residential and commercial customers throughout the Chino Hills, CA area.  For our commercial customers we can offer you regularly scheduled maintenance programs to keep your sewer and drain system in top working condition.
Maintain your drains with a regularly scheduled maintenance program to keep your system from experiencing nasty clogs and backups into your home or facility.
Claremont CA Hydro Jetting Services
Toilet Drain Jetting

Sewer Line Jetting
Commercial Hydro Jetting
Hydro Jetting For Restaurants
Hydro Jetting For Hotels
Hydro Jetting For Apartments and Townhomes.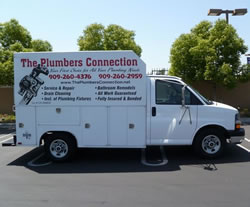 The Plumbers Connection are your local Claremont, CA  hydro jetting experts.  It doesn't matter if you want something as simple as a single sewer line hydro jetted, or several sewage lines running out of your building or facilities.  From hydro-jetting your home to an entire housing complex, apartment or townhome.  Restaurants, hotels and more.
We can complete any type of hydro jetting and drain cleaning project you may need finished in the Claremont area.  One of our plumbing warehouses on wheels can be dispatched to your Claremont location and our experience hydro-jetting technicians will know exactly what to do.
[box color="navy-mute" type="round" icon="star"]We understand you have many choices when it comes to choosing a hydro jetting contractor in the Claremont, CA area.  We just want you to know that when you choose The Plumbers Connection you are supporting a small, family-owned local plumbing services business.  We're big enough to solve your complex sewer and drain problems quickly and for a very fair price and we're still small enough to care about every individual customer so you are completely satisfied with our services.[/box]