Plumber Serving The Inland Empire Area in California
The Plumber's Connection is a veteran owned, insured and bonded plumbing company in the Greater Pomona Valley and Inland Empire area.
With more than 17 years experience, we handle any commercial or residential plumbing service including plumbing repairs, plumbing installations, drain cleaning, hydro jetting and gas leak detection.
As a veteran owned and operated business you can count on our integrity and our ability to provide the highest level of service to our valued customers.
If you'd to receive an immediate response to your plumbing issue please give us a call 909-260-4376 or fill out our online contact form and someone will be getting right back to you.

Why Choose The Plumbers Connection?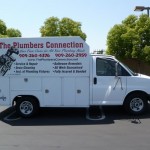 The Plumbers Connection is a full service plumber based out of Claremont, California and serving the surrounding area.  We specialize in all aspects of plumbing and drain systems for both commercial, residential, municipal and industrial customers.
If you need plumbing services then give The Plumbers Connection a call today 909-260-4376 or fill out our online form and someone will get right back to you.