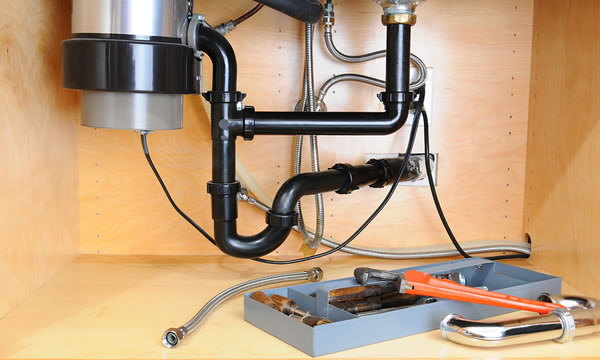 Do you need a reliable plumber in the Upland, CA area?   The Plumbers Connection is a full service plumbing and gas contractor specializing in all aspects of residential and commercial plumbing and plumbing repair throughout Upland, CA.
From emergency repairs to energy saving plumbing solutions we're your one stop plumbing solution in the Upland area.  We pride ourselves on the quality of work we complete and the innovative solutions we're able to offer our clients.  Through strategic partnerships and relationships with suppliers we are able to offer some of the most competitive prices on plumbing hardware and energy saving plumbing appliances.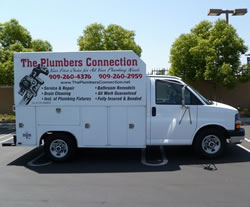 When The Plumbers Connection arrives at your home, our plumbing technician will be clean cut, dressed professionally and they'll be driving one of our complete "plumbing warehouses" on wheels, fully stocked with the most common plumbing hardware and equipped to tackle almost any plumbing problem right then and there.
From fixing leaky pipes to hydro-jetting out a clogged drain to installing a new kitchen faucet or filtration system.  Everything we need is at our fingertips so you don't have to wait.
If you don't require a plumber immediately but will be needing our services in the future, for a remodeling project, or new appliance hookups perhaps, then feel free to call us for a Free consultation.
Plumbing Services We Offer in Upland CA:
Many sewer and drain problems can be diagnosed with the use of a sewer and drain camera.  Our sewer and drain camera inspection services can quickly locate and help solve troublesome plumbing and drain problems in your home or commercial building.
Faucets and Sinks
Toilet Replacements and Repair
Hot Water Heaters
Tankless Hot Water Heaters
Green Plumbing
Sump Pumps
Hydro Jetting Services
Gas Piping and Gas Lines
The Plumbers Connection are your local Upland, CA plumbing experts.  It doesn't matter if you want something as simple as a new dishwasher installed, a new faucet on your kitchen sink, or a new tankless hot water heater.  We can complete any type of plumbing project you may need done.
We understand you have many choices when it comes to choosing a plumber in the Upland, CA area.  We just want you to know that when you choose The Plumbers Connection you are supporting a small, family-owned local plumbing services business.  We're big enough to solve your plumbing problems quickly and for a very fair price and we're still small enough to care about every individual customer so you are completely satisfied with our services.